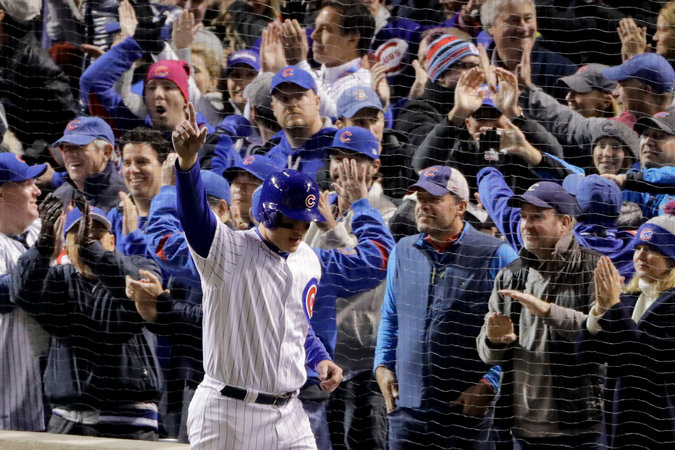 Observing the super-enthused (and equally nervous) fans packed in and around "The Friendly Confines of Wrigley" on TV, one has to believe that a fire marshal or three MUST be looking the other way. The opportunity to take part in, literally, a once in a lifetime event—the Cubbies haven't gotten this far since 1945, or won it since 1908—has a 'gotta do whatever it takes' effect on people.
I have to relate the situation with a recent real estate client, which has a totally different time line. We met last Wednesday, and being a dedicated agent, one who explores all possible avenues to get clients in the right position (a la Cub manager Joe Madden)to 'win' the home-buying game, I'd found and previewed a for sale by owner (FSBO) townhouse, at a bargain price, by Saturday. While client was unable to see the property because of Sunday commitments, it was a known tax lien that couldn't be cleaned up by Monday that prevented victory– or at least entry into a multiple bidder 'playoff'– for an almost ideal home. Better luck…y'know, next time.
It's easy to make a decent real estate analogy for the quantity of in-the-dirt curves and sliders that Cleveland Indians pitchers got Cub batters to take futile hacks at, but those faithful, long-suffering fans would have had a tougher time with their traditional "wait 'til next year" mantra after a 103-win regular season. My personal desire to help fire fighters overcome lip service about their importance–but with frequently less than significant supporting action–gain their piece of the American Dream, is because aid from the crew at Station #14 (Cotswold) gave me another Christmas with my Dad. While that kind of pales in comparison to Chicago fans collective angst, just recognize that when you feel deeply about something, its got to be legitimate to keep actions in line with beliefs.
The Reality is that many potential home buyers are in essentially the same ballpark with opportunities. Even knowing what is necessary—laying off the low/in the dirt pitch—they want to get to the plate without the most necessary implement to hit with, which is pre-approval. While buyers have a much greater possibility for success (being involved in home ownership) than finding a ticket for or playing in the World Series, it's still about handling specific functions properly. Real estate brokers can steer through and around many obstacles in the buying process, but 99.5% of the time, they will demand clients have at least a loan pre-qualification letter before getting in the game.
(Ed. Note- That Cub hitters DID stop swinging at pitches in the dirt, especially from Indians pitcher Korey Kluber– who struck out 15 in his last Series outing– is why they triumphed in Game 7. After hearing retiring Cub catcher Mark Ross tell first baseman Rizzo to contain his excitement about a 5-1, 5th inning lead until the 9th (usual end of games), the Cubs endured a 17-minute rain delay at start of *10th inning* with game tied 6-6 and triumphed. The joy of their exceptionally long-suffering fans justifiably knows no reasonable bounds.)
The pleasure of taking in the ivy-covered walls on a sunny day and singing 'Take Me Out to the Ball Game' in the bottom of the 7th inning is significant; so is being seated on the legendary rooftops beyond left field wall for a once-inconceivable night game—in 43 degree temperature– or being massed outside Wrigley in anticipation during the Series.  The fire fighters/first responders I work with will never have to wait 'til next year to be a home buying winner, and on a very real bottom line, the discipline of getting pre-approval is a lot more reasonable than trying to hit pitches in the dirt.
Congrats to the Cubs and their fans. I'll do my best on object of home buyers desire to find a place that qualifies as "the friendly confines," although for 108 years would be an impossibly long time.