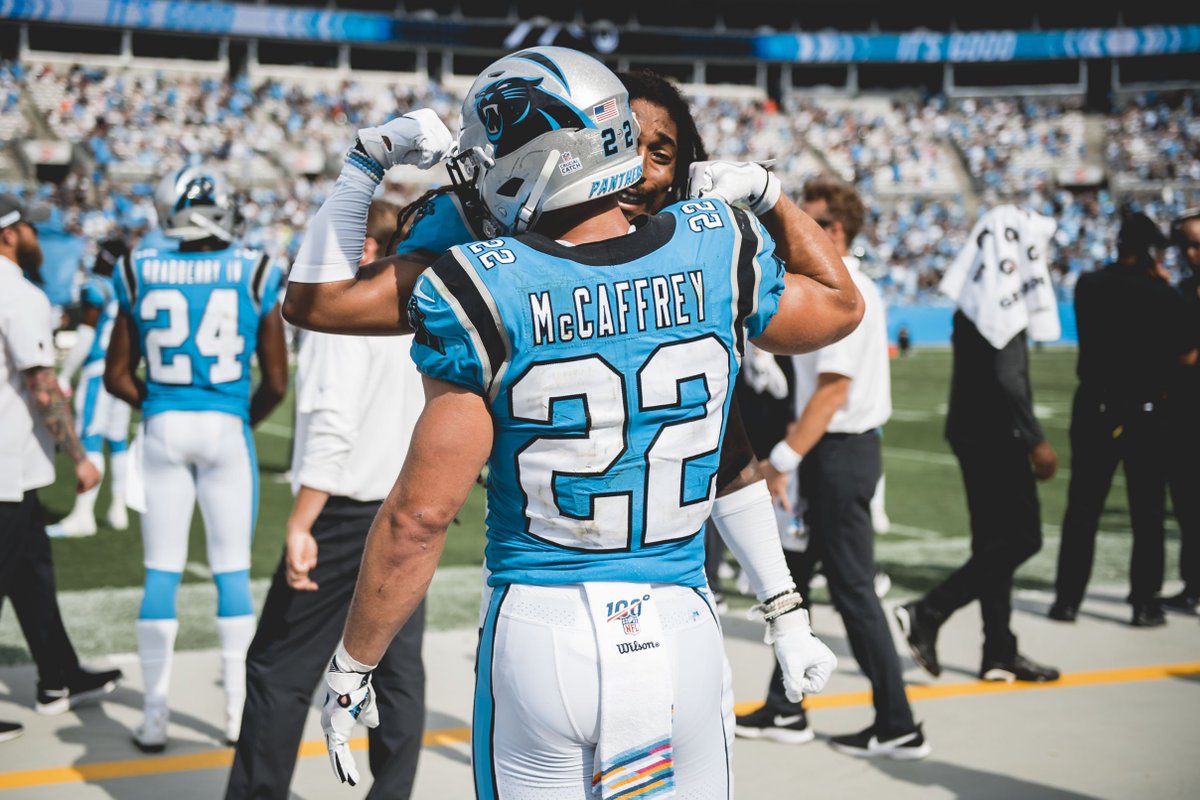 While my keyboard time usually involves more content creation and long-form informational blogging recently, I'm still a sportswriter-fan who is thrilled at how the local Panthers are handling matters. Quarterback Kyle Allen has gone 3-0 since Cam Newton's foot injury turned out to be more of a real problem, and the 34-27 win over Jacksonville was nothing but positive on many fronts.
Hey, you all had the TV on by the time McCaffrey flipped over two Jacksonville defenders into the end zone for a TD at the end of Panthers first drive, right? And you *KNEW* the linebacker who wound up on him in the slot was toast as soon as McCaffrey planted to cut inside, and scored on an 18-yard reception, right?
On an afternoon when McCaffrey crushed the concept of running back ('weapon' works, might be un-PC though), and looked *Good!* holding his form all the way on an 84-yard lightening bolt  run – even Mr. Modesty looked at the big board – it was a gratifying, all around good team win.
At some point in the future, the Panthers are going to want to put a statue of Christian McCaffrey on the stadium grounds, just don't expect him to pose for it.  Clearly not the man's style, although he's the High Achiever type, and recognition comes with that.
Along that line, congratulations to the four gentlemen inducted into the Hall of Honor: Tight end Wesley Walls,  offensive tackle Jordon Gross, the quarterback that took the Panthers to their first Super Bowl, Jake Delhomme, and the epitome of effort,  wide receiver Steve Smith, Sr.
Smaller congrats to Coach Ron Rivera, whose 74 victories with the Panthers makes him the franchise's winning-est coach.
Charlotte fans still in the upper decks to witness it
Without getting wild 'n crazy over 3-2, it was a satisfying victory over the Jaguars, who came into the NFL in 1995, same as the Panthers. Watching the entire game, on an optimal Carolina afternoon without massive heat, the Panthers always seemed to be in control, although Jag QB Gardner Minchaw II and a couple other Jags had pretty strong days too.
If you appreciate what Kyle Allen has done in managing the team to three victories, imagine how they feel in Jacksonville with Nick Foles going down. Minchaw hung a 26/34 (76%), 374 yards, two touchdown day on the board against what had been Panthers #1 ranked defense against the pass (Panthers had two sacks). He also hit DJ Chark (8/164 yards, 2 TD) for three gainers of over 30 yards, had six scrambles for 66 yards, and there was still a possibility – because Joey Slye missed a PAT – for the Jaguars until the chaos of three 'final' plays.
Kuechly batting the ball down was the end of a long afternoon for the Panthers, although I'd be willing to acknowledge Minchaw's pyrotechnics on his ability to evade a strong pass rush than any lack of effort up front.
On that item, I'm willing to forget 2018, when Eric Washington's front seven simply didn't get to QBs, and the defense was repeatedly torched along the way. The rush had an excellent game against the Texans Deshaun Watson (which he took out on Atlanta 53-32). Rookie LB Brian Burns had an outstanding strip-sack/touchdown run Sunday, and Ross Cockrell, who didn't play last year after a broken leg in training camp, is showing up regularly (6 tackles) in the secondary.
Let's admit that McCaffrey's shot-from-a-cannon 84-yarder looked faster for longer than Fornette's 49-yarder, but seeing Fornette outrun Luke Keuchly's angle to the edge and then motor away, that's what 4.4 speed looks like. For those who still worry about Cee-Mack getting worn out/overused, the way he grinds out 3-4 yard carries is why those extra ten pounds of muscle this year count, and he sure didn't LOOK any slower, did he?
Olsen didn't draw any throws, and that's never really acceptable in my book. Olsen has always been a favorite receiver for Newton, and Allen did find him twice in that first four touchdown game though. The best explanation is that Olsen is part of that core leadership (Thomas Davis out, Gerald McCoy in) the Panthers benefit from. He's all about TEAM, and if extra blocking against the Jags pretty good defensive rush was necessary to keep #7 clean, he knows his number isn't being called for a reason.
It has never seemed like without Newton all was lost, like last year.
This coming Sunday the Panthers play the Tampa Bay Buccaneers in London, UK, then have a bye week before going to San Francisco, with a chance to be 6-2 again at mid-point of the season if they beat the Titans to begin November. A win vs. Bucs might not seal them in cellar, because Atlanta isn't doing so hot. The Saints? Ten wins? Newton ready after the bye?
"Believing" already isn't how things roll in Charlotte
There have been up-down years in Charlotte, even two Super Bowl trips, but for 25 years as a franchise here in "The Buckle on the Bible Belt," every good year has been followed by misery for the Panthers. There's a collective holding back that only disappears at times like that Thanksgiving game against Dallas to go 11-0 in 2015. That's when a lot of people voiced the same thing, about finally believing it was okay to think they could be THAT good.
I'm of the belief that this is 25th anniversary version is actually much better than the 2018 team, and not just pickin' at hearts early and then going belly-up, like those seven losses in a row after 6-2 start.
The offensive line looks to be righteous – the Panthers had 285 yards rushing, and when your boy leads the league, that's something to hang your hat on. Reggie Bonnafon's five carries for 80 yards, including a 59-yard TD run, meant there was no need to bring McCaffrey back into the game after a minor injury in the 4th quarter.
Even if Allen has now been sacked just under three times a game, yes, eat the ball young man! (still 0 INTs this year).  507 yards of Jaguar's offense aside, every aspect is MUCH better than Panthers 2018, certainly the pass rush has a restored sense of pride.
If the question comes up about what HASN'T McCaffrey done for this team, he doesn't sell popcorn at halftime as they sometimes say, and he failed to convert a pair of short 4th down runs – one of which might have won the Bucs game.
Very few people will remember that, but for Mr. McCaffrey, that's the extra bit of fire you might not see along with those great guns of his. Figuring out how much further to a 1,000-1,000 rushing/receiving season is legit.